Acne breakouts, fine lines, dark spots, and texture are no match against this powerful slow-release serum.
Regular price
$105.00 USD
Regular price
Sale price
$105.00 USD
Unit price
per
Sale
Sold out
View full details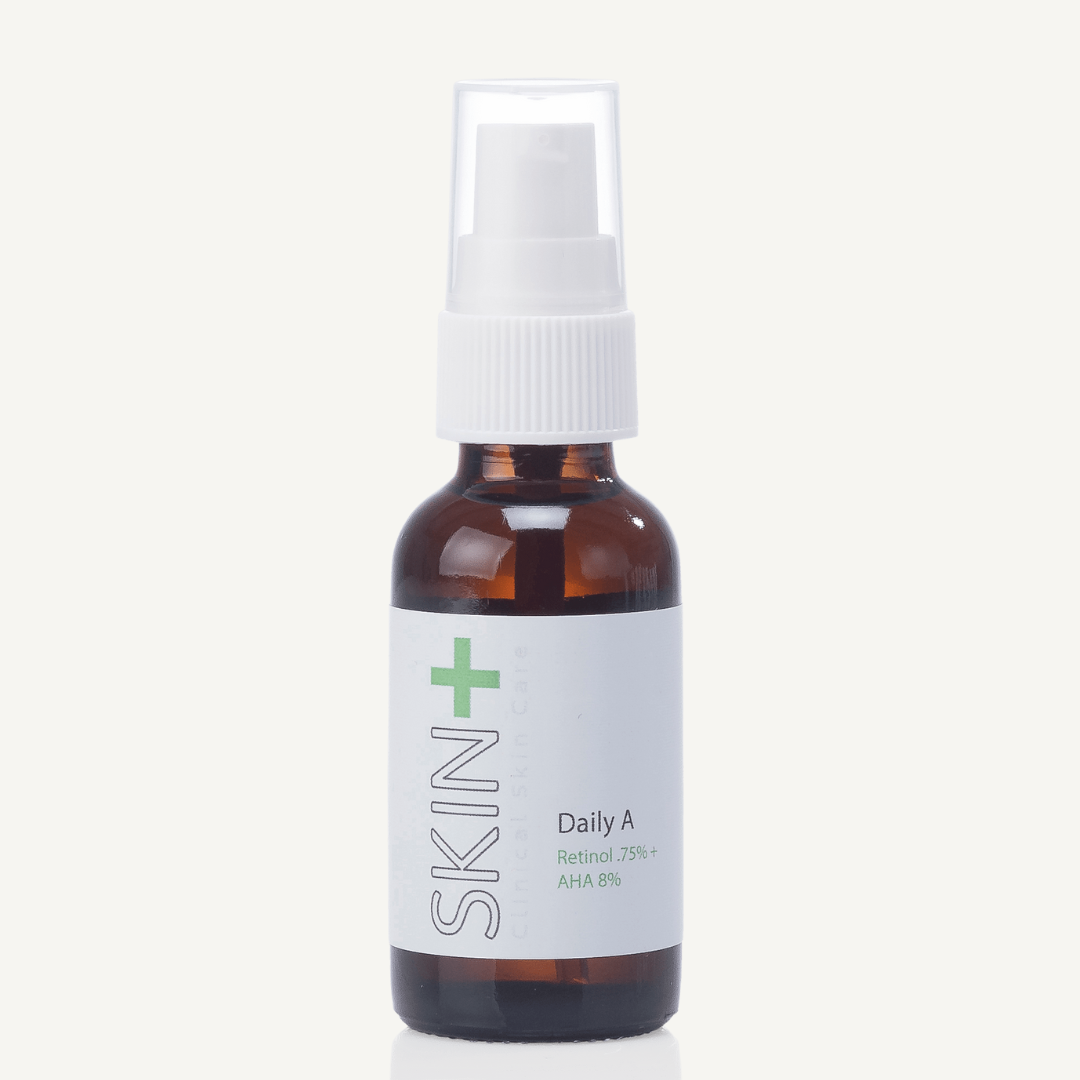 Acne breakouts, fine lines, dark spots, and texture are no match up against our Daily A Retinol Skin Serum. This slow-release retinol is blended with powerful alpha hydroxy acids L-Mandelic acid, Kojic Acid, and Salicylic Acid (Beta Hydroxy Acid) with hydrating Sodium PCA and Niacinamide to hydrate and keep the skin barrier healthy. The AHA and BHA in this product exfoliate dead skin cells allowing the prescription-strength retinoids to peel the lining of the pores, reversing the hyper-shedding in acne-prone skin making it one of the best acne treatments. Even the most sensitive skin can use Daily A to flush out dead skin cells, clear acne impactions, and reduce uneven skin tone and dark spots caused by blemishes or breakouts without skin irritation.
This bottle of yellow liquid is a Vitamin A acid. Vitamin A is the gold standard topical retinoids that board-certified dermatologists prescribe to acne patients to clear skin. Unfortunately, these prescription-strength products form of vitamin A tends to cause negative reactions like retinol burn and dry skin. This is one reason why those who seek prescription retinoids from a healthcare provider tend to not get clear skin, and get in a cycle if trying all the things the dermatologist suggests with no luck. The good news is we have come a long way with over-the-counter retinols as an effective ingredient in skin care products.
Daily A retinol treatment sloughs away the built-up of dead skin cells, encourages collagen production, and reduces acne scars, oil production, and hyperpigmentation. When you apply a thin layer of Daily A it increases the skin cell turnover, meaning it causes peeling and after weeks of use in your skincare routine it will begin to open up the impacted pores. The acne lesions will start to come to the surface of your skin, where they can easily be washed away, extracted, or fall out on their own leaving clearer skin. Our Vitamin A retinol products are blended with soothing, hydrating active ingredients to ensure the best results.
After cleansing and toning, apply 1/2 dropper of Daily A all over face.
SD alcohol 40-B, propanediol, L-mandelic acid, pentylene glycol, water/eau, retinyl propionate, acetyl tetrapeptide-2, acetyl hexapeptide-8, kojic acid, salicylic acid, sodium lactate, niacinamide, sodium PCA, glycerin, hydroxypropyl cellulose, lactic acid, hexylene glycol, fructose, glucose, glycine, citric acid, dextrin, sodium benzoate, sucrose, urea, alanine, aspartic acid, glutamic acid, hexyl nicotinate, caprylyl glycol, ethylhexylglycerin.
We suggest you consult with your doctor
WHEN SHOULD I APPLY DAILY A SERUM IN MY ROUTINE?
Daily A is to be applied all over the face at night, with no spot treatment.
Pro B5 Wash
Toner (optional)
Daily A (1/2 dropper full)
HylaVera
Acne Gel
HOW OFTEN SHOULD I USE IT?
Start using it every other night for the first two weeks, then every night after that
CAN RETINOL SERUM BE USED LONG-TERM?
Yes! Once you are clear of acne, this will be your maintenance serum to keep you clear.

SHOULD I FOLLOW WITH A MOISTURIZER?
Yes, Use the HylaVera Gel after applying Daily A. Then follow with the Acne Gel
CAN I USE OTHER ACTIVE INGREDIENTS?
I suggest following The Skin+ Method Using either CytoClear or BHA2% in the morning and Daily A at night.

WHY DO I NEED TO WEAR SUNSCREEN WHEN USING DAILY A SERUM?
As with all active acid products Daily A speeds up the skin renewal process so the top layer of your skin is new fresh baby skin. You wouldn't put a baby in the sun without sunscreen, would you?!
Protect your new baby skin and wear your sunscreen.
IS IT SUITABLE FOR SENSITIVE SKIN?
Yes, it is safe for sensitive skin.
Note: You will get dry and peel, this needs to happen in order to flush out the acne impactions.
I AM EXPERIENCING SOME IRRITATION WHILE USING DAILY A SERUM. DO YOU HAVE ANY TIPS?
Stop using it until the irritation goes away, then add it back in every other day.

I NOTICED MY SKIN IN PURGING WHEN I STARTED USING RETINOL SERUM, HOW LONG WILL IT LAST?
This is totally normal and we want this to happen. Usually, around weeks three and four of using Daily A your skin may appear worse, that is because the Daily A is working to bring up the impactions that were down in the pores. It is very important you stick with the routine through this purging phase. It should last a couple of weeks.

WHAT IS THE PH LEVEL OF THIS PRODUCT?
PH LEVEL: 5.53

IS IT PREGNANCY SAFE?
We do not recommend this product if pregnant or breastfeeding. Consult your doctor before use.

CAN I USE THIS WITH PRESCRIPTION MEDICATION?
We would suggest you consult with your doctor to be sure.
UPGRADE YOUR CLEAR-SKIN ROUTINE