Our #1 product + acne favorite, this potent serum flushes out dead skin cells, clears acne impactions, and improves uneven skin tone, wrinkles, and dark spots.

Clears out acne impactions
Fades marks from old acne
Controls oil
Even the most sensitive skin can use
Regular price
Sale price
$75.00 USD
Unit price
per
Sale
Sold out
View full details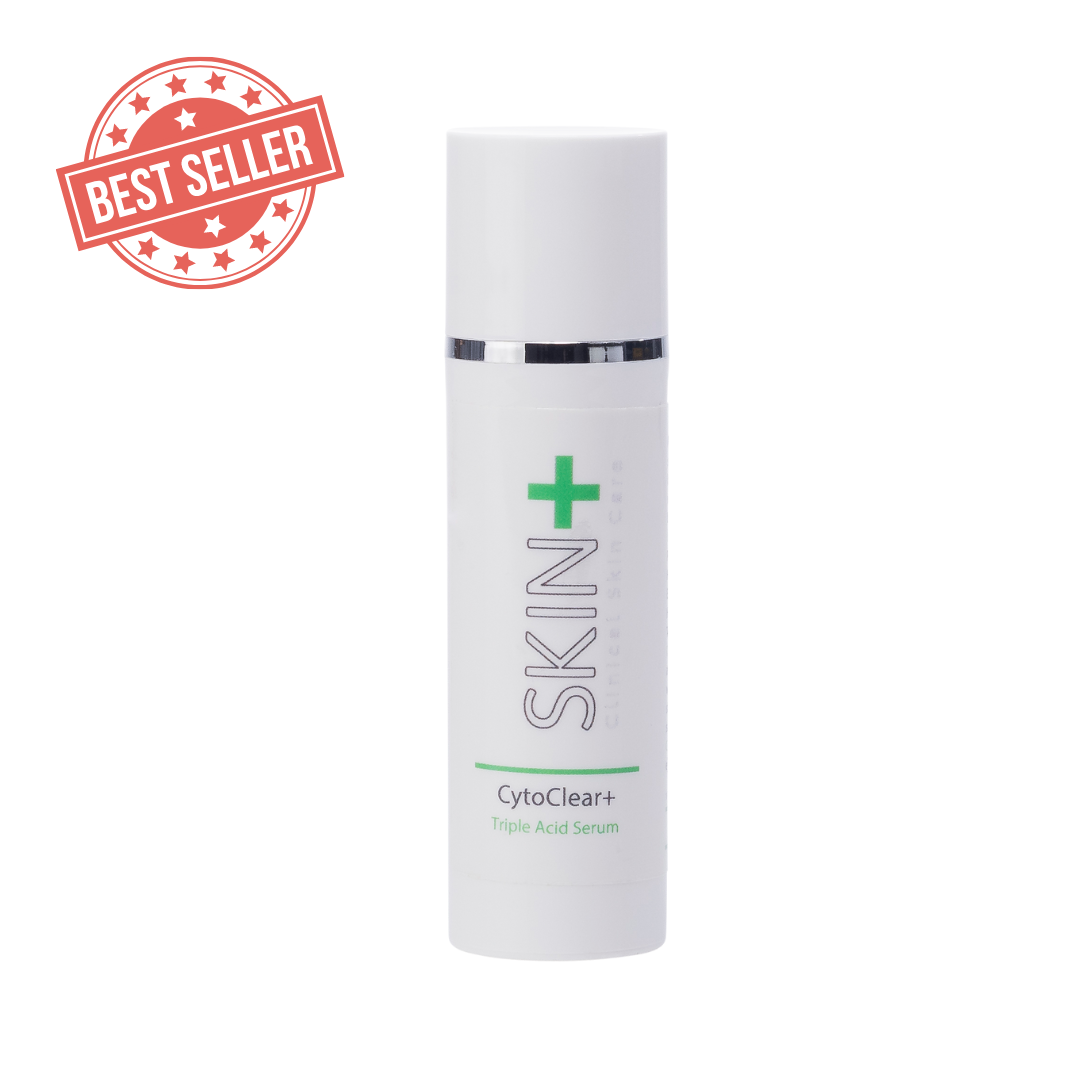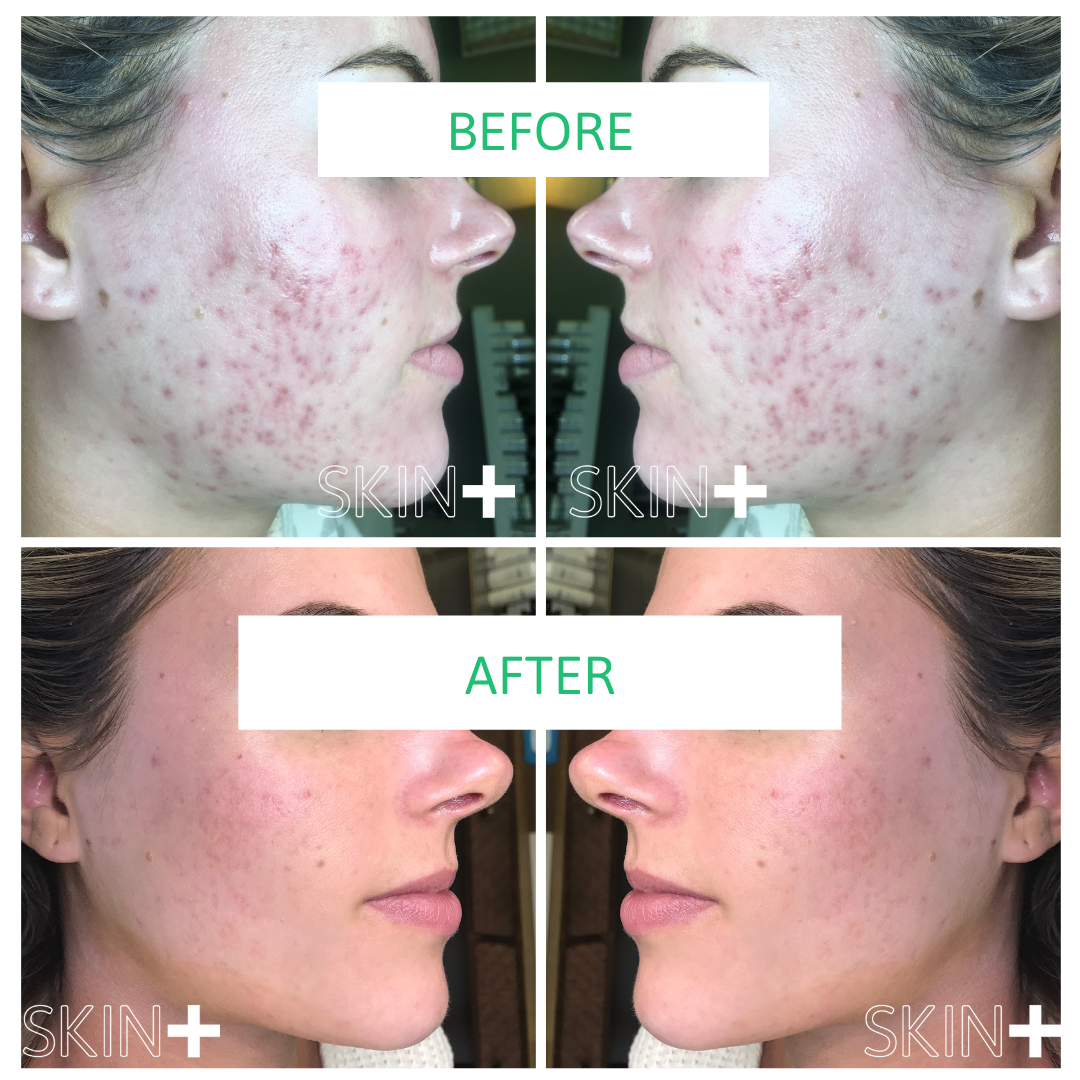 This light weight gentle yet powerful exfoliating acid serum, this alpha hydroxy acid serum features chirally correct versions of L-mandelic acid, l-lactic acid, and azelaic acid as the key ingredients, with hydrating hyaluronic acid and sodium PCA to support the skin's moisture barrier. It's all the acids with no irritation for all skin types. Even the most sensitive skin can use this to flush out dead skin cells, clear acne impactions, and reduce uneven skin tone and dark spots caused by blemishes or breakouts. This mandelic acid serum is also a good product for age management to even out skin texture, reduce the appearance of fine lines, exfoliate dry skin, and provide skin hydration, so active ingredients can give you the best results.
Below is the breakdown of how Mandelic and Azelaic acid work to clear impactions.
Mandelic Acid
Mandelic acid is an alpha hydroxy acid (AHA) derived from bitter almonds. Among its fellow AHAs, like glycolic and lactic acids, mandelic acid has a larger molecular weight and slows epidermal penetration, allowing a more even exfoliation and less irritation. This gentle aha is the most effective alpha hydroxy acid for acne-prone skin because of its higher molecular weight allowing it to stay on the skin's surface longer to calm down angry pimples; anyone can use mandelic for skin exfoliation to reduce pore size, sebum production, and acne marks from post-inflammatory hyperpigmentation.
Azelaic Acid
Azelaic acid is antibacterial and anti-inflammatory, making it an excellent skin ingredient for rosacea-prone skin and acne-prone skin. See visible results of reduced redness and swelling from acne lesions in just two weeks. Unlike mandelic acid, Azelaic acid is not an alpha hydroxy acids or a beta hydroxy acid (BHA) like salicylic acid making it great for all skin types, including sensitive skin.
Azelaic acid works by decreasing dihydrotestosterone (DHT) and controlling excess sebum in the oil glands. DHT is an androgen (hormone) five times more potent than testosterone. Men and women both produce DHT each day; this takes place in the testes and prostate (in men), in the ovaries (in women), as well as the SKIN and liver. Clinical studies have shown that those of us with acne-prone skin have more DHT in our pores, especially those of us who get hormonal breakouts. Azelaic acid suppresses the enzyme that converts testosterone into DHT. This process works by causing the enzyme to "eat up" the azelaic acid instead of free testosterone, so it cannot turn into DHT, making it an effective treatment for acne-causing bacteria. Azelaic acid is also a tyrosinase inhibitor (melanin production) It will fade the appearance of dark spots, uneven skin tone, and acne scars.
use 2 pumps of CytoClear after cleansing. Use every other night for 2 weeks, start using every night after 2 week if you have no irritation.
Water, SD Alcohol 40-b, L-Mandelic Acid, Pentylene Glycol, L-Lactic Acid, Azelaic Acid, Sodium Hyaluronate, Sodium PCA, Sambucus Nigra Fruit Extract, Aloe Barbdensis Leaf Juice, Glycerin, Hydroxyethycellulose, Aminomethyl Propanol, Tetrasodium Glutamate Diacetate
Yes, it is! Our soon-to-be mommas use this instead of the Daily A (Retinol) while pregnant and breastfeeding. As always, consult with your doctor before continuing any active products.
CAN I USE THIS SERUM IN MY MORNING ROUTINE?
Yes, we typically have our clients use this serum in their AM routine every other day to start. Then after two weeks, start using it every morning. CytoClear is a great serum for the AM because it tightens skin and controls excessive oil. As always with exfoliating acids that increase the skin's sensitivity to the sun, always use a broad-spectrum sunscreen all over the face during the day.

CAN I LAYER THIS WITH OTHER INGREDIENTS?
Yes, but you have to use it with ingredients that target other issues. We suggest you use it in conjunction with our Benzoyl Peroxide (Acne Gel) to help fight inflammation. As you progress with your treatment, you can use other acids like BHAs (Beta Hydroxy Acid (Skin+ BHA 2%), and Retinol (Daily A) to bump up your acne routine. See our Protocol

WHAT'S THE % OF MANDELIC ACID?
This product contains 10% L-Mandelic Acid
WHAT'S THE % OF AZELAIC ACID IN THIS PRODUCT?
This product contains 4% Azelaic Acid
WHAT IS THE PH LEVEL OF THIS PRODUCT?
PH LEVEL : 3
HOW LONG WILL IT TAKE TO SEE RESULTS?
The pimples you see on your skin now started forming 90 days ago, so it is very important to never skip using the serum even if you are not seeing results. It can be tempting to use more increase the use of the serum to try and get quicker results, but this does not work and can actually push the clearing process back by impairing the skin's barrier. If you follow our product protocol, you should see less inflammation, oil, and redness in just two weeks.
Trust the process and be consistent with using products. Never skip face day!
IS IT PREGNANCY SAFE?
Yes, it is! Our soon-to-be mommas use this instead of the Daily A (Retinol) while pregnant and breastfeeding. As always, consult with your doctor before continuing any active products.
CAN I USE THIS WITH PRESCRIPTION MEDICATION?
Our Skin+ Method is to clear acne without you having to use a prescription acne medication like Spiorlacton, antibiotics, Accutane, and topical prescription products. Our clients are coming to us because they do not want to be on harsh prescriptions, as always consult with your doctor before starting or stopping any medications.
UPGRADE YOUR CLEAR-SKIN ROUTINE